MPT Initiates Nationwide Activity In Donating To Home For The Aged/Orphanages/Monasteries In Commemoration Of Tazaungdaing Period
Published 11 Nov 2022
(Yangon,11th November 2022) _ By showing MPT's dedication to Myanmar people and its commitment of "အတူလက်တွဲ အမြဲရှိမည် MPT" (MPT-Holding Hands Together With Myanmar People) MPT has started Nationwide donation to Home for the aged and other much needed places in 24 geographical locations to commemorate Tazaungdaing Festival starting from 8th November.
MPT has donated MMK 55 million worth of essential food items and necessary cash as a way of expressing sincere gratitude to customers and maintaining Myanmar culture during this kind of time. Donating items also includes caps, masks, and towels and will distribute to monasteries, orphanages, nunnery schools and homes for the Aged across the country. The whole donation process has been carried out by MPT offices in each States and Regions.
As a true local operator, MPT is always dedicated to support people in Myanmar and has contributed to many sectors for long including its CSR pillars of Education, Health and Business incubation. Last September, MPT has donated 4,800 $ worth Non-contact Tonometer (NCT) CT-800 to Myanma Railway Hospital (Insein) where public can access for their medical treatments. The corporate social responsibility activity of MPT also includes contribution of 50 million MMK to Myanmar Red Cross Society (MRCS) in support of its humanitarian activities in Myanmar. To date MPT has contributed to local community in need and committed to make impact to the local community under its CSR activities.
MPT can carry out contributions to the community only with the help and support from its loyal customer. We appreciate and grateful for the support from MPT users and we will continue our supports in different sectors in future. We encourage to stay with us as we continue to move forward together with community.
More information about MPT's CSR activities can be found at MPT official website www.mpt.com.mm and customers can reach out to 106 call center and chat with MPT's Chatbot services at MPT4U App, Viber for the product and services.
On November 8th and 11th, the memorable photos that were donated in States And Regions
Memorable Photos donated by MPT to YGW Htarwara for the Aged in Yangon Region
Memorable Photos donated by MPT to Hnin Si Kone Home for the Aged in Yangon Region
Memorable Photos donated by MPT to Nibanna Monastic School in Kayin State
Memorable Photos donated by MPT to Bethel Home for the Aged in Chin State
Memorable Photos donated by MPT to Theravara Buddha Sasana Monastery in Shan State (East)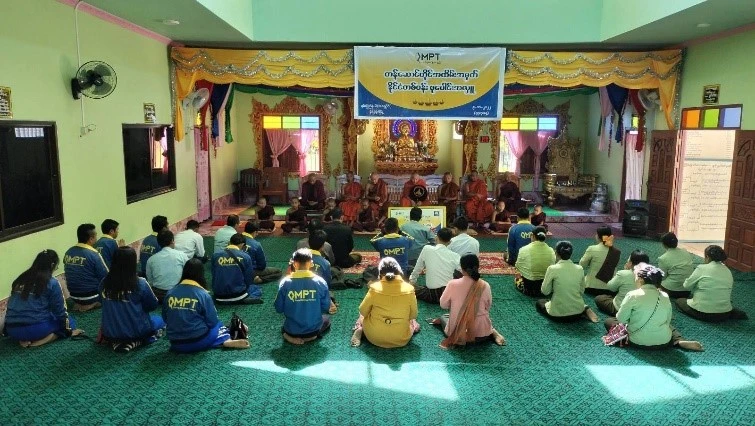 Memorable Photos donated by MPT to Thiri Khittaya Home for the Aged in Bago Region (West)
Memorable Photos donated by MPT to Banmaw Home for the Aged in Kachin State