MPT Welcomes Myanmar New Year with Nationwide Donation Cherishing Local Cultures
Published 07 Apr 2023
(Yangon, 6th April 2023) _ As a leading and true local telecom operator in Myanmar, MPT not only dedicated to Myanmar people but also value and embrace Myanmar tradition and supporting the special events in Myanmar. In commemoration of coming Myanmar New Year Thingyan period, MPT donated MMK 55 million worth of basic food items, personal care products and cash to places in 35 geographical locations including home for aged, orphanages, monasteries, and nunneries and other much needed places across the country. Over 20,000 people have benefitted through this donation.
MPT has been actively engaging in many CSR activities nationwide in the areas of education, healthcare, and entrepreneurship programs as three main pillars– especially for the youth, who will be the ones moving the country forward in the future.
For this year's Myanmar New Year period, MPT celebrated it by making a nationwide series of charitable donations to mark the auspicious Thingyan period preserving the tradition and supporting its community as a way of paying respect and support to the people of Myanmar. On 5th and 6th of April, MPT provided support to 35 locations all over the country and the whole donation process has been carried out by MPT offices in each States and Regions.
MPT is wishing to the people all over the country to have a peaceful and prosperous New Year. MPT also would like to express gratitude and appreciation towards customers across country who believe in us and support us in every way. We will continue our support in different sectors in the future and would like to encourage our valued customers to stay with us as we continue to move forward together with the community.
More information about MPT's CSR activities can be found at MPT official website www.mpt.com.mm and customers can reach out to 106 call center and chat with MPT's Chatbot services at MPT4U App, Viber for the product and services.
The activities and related photos of the donation to monasteries, home for the ages, nunneries, orphanages, monastic education schools, hospitals and social organizations 5th and 6th of April 2023 can be seen as below.[/vc_column_text][/vc_column][/vc_row]
Memorable photo of MPT's donation to Amaung Charitable Clinic in Kachin State
Memorable photo of MPT's donation to Kachin Physically Handicapped Association (Wine Maw) in Kachin State
Memorable photo of MPT's donation to Sein Martin Home for the Aged in Kayah State
Memorable photo of MPT's donation to Kayah State Home for the Aged in Kayah State
Memorable photo of MPT's donation to Kyaung Thit Kyaung Pariyatti Monastery in Kayin State
Memorable photo of MPT's donation to Chan Thar Aye Monastery in Kayin State
Memorable photo of MPT's donation to Bethel Home for the Aged in Chin State
Memorable photo of MPT's donation to HBC orphanage in Chin State
Memorable photos of MPT's donation to Sagaing Pariyatti Monastery in Mon State
Memorable photos of MPT's donation to Sagaing Pariyatti Monastery in Mon State
Memorable photo of MPT's donation to Kyauk Phyu Home for the Aged in Rakhine State
Memorable photo of MPT's donation to ABC Foundation in Rakhine State
Memorable photo of MPT's donation to Dhama Rakhita Nunnery School in Shan (East) State
Memorable photo of MPT's donation to Amay Yin Khwin School in Shan (East) State
Memorable photo of MPT's donation to Sarsanawinthi Nunnery School in Shan (South) State
Memorable photo of MPT's donation to Mibamyitta Charity Monastery in Shan (South) State
Memorable photo of MPT's donation to Sarsana Alin Yaung Nunnery School in Shan (North) State
Memorable photo of MPT's donation to Social Organization (Kidney department) in Shan (North) State
Memorable photo of MPT's donation to Thadhama Goneyi Nunnery School in Bago (East) Regio
Memorable photo of MPT's donation to Kyakhatwine Pariyatti Monastery in Bago (East) Region
Memorable photo of MPT's donation to Sarsanapala Charity Monastic School in Bago (West) Region
Memorable photo of MPT's donation to Yadanarmyinzari Nunnery School in Bago (West) Region
Memorable photo of MPT's donation to Dhammay Thaka Nunnery School in Sagaing Region
Memorable photo of MPT's donation to Tipidaka Linkarya Tharmanay Kyaw Monastery in Sagaing Region
Memorable photo of MPT's donation to Magway Child Care Department in Magway Region
Memorable photo of MPT's donation to KS Social Organization in Magway Region
Memorable photo of MPT's donation to Ethnic Youth Development Orphanage in Tanintharyi Region
Memorable photo of MPT's donation to Ethnic Youth Development Orphanage, Zeya bhumi Monastic Middle School in Tanintharyi Region
Memorable photo of MPT's donation to Sattawyar Home for the Aged in Ayeyarwaddy Region
Memorable photo of MPT's donation to Yadanar Alinyaung YGW Monastic School in Ayeyarwaddy Region
Memorable photos of MPT's donation to Aye Yeik Mon Nunnery and School for orphaned women in Mandalay Region
Memorable photo of MPT's donation to Karuna Gabar Home for the Aged in Nay Pyi Taw District
Memorable photo of MPT's donation to (1,000) Bedded Nay Pyi Taw General Hospital in Nay Pyi Taw District
Memorable photos of MPT's donation to Sama Taung Orphanage in Nay Pyi Taw District
Memorable photo of MPT's donation to Khema Buddhist University in Yangon Region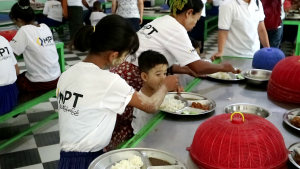 Memorable photo of MPT's donation to Phayargyi Mingalar Charitable Monastery in Yangon Region